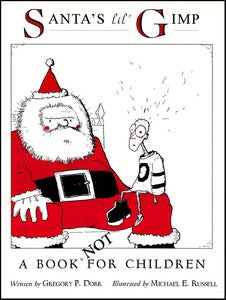 $

5.00
"This is my favorite book of the Christmas season.... so weird I hesitate to recommend it to anyone. Except you, of course." -- The Oregonian, 1995
"Adults will marvel at Russell's beautiful, if grim, line drawings and Dorr's dry wit." -- Willamette Week, 1994
"For those who think yule logs stink and eggnog makes you vomit, have we got a holiday story for you." -- The Octopus, 1996
"A sick, warped and wonderfully twisted modern Christmas tale." -- Portland Vanguard, 1995
____________
Written by Greg Dorr and illustrated by Mike Russell, "Santa's Lil' Gimp" tells the life-affirming story of Tim-Tim -- a disease-stricken waif whose mysterious illness gets the attention of Ol' Saint Nick. Santa calls on a convicted felon elf named Jocko to temper Tim-Tim's suffering.
Together, Tim-Tim and Jocko embark on a journey of love, sacrifice, laser therapy, and switched medications.
Winter holidays have long been enjoyed as a celebration of family and togetherness. "Santa's Lil' Gimp" -- first published in 1994 -- smashes that tradition with a bold new approach to seasonal storytelling.
Illustrated by Mike Russell in a style that suggests Berke Breathed as analyzed by Dr. Caligari, "Gimp" received generous acclaim for writing the epitaph for our modern holiday spirit. It's also made many people very, very ill.
(You can browse "Gimp" online at www.SantasLilGimp.com)