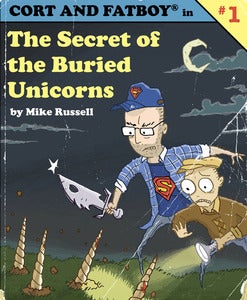 $

3.00
This 32-page picture book stars real-life Portland podcast superstars Cort and Fatboy in a thrilling tale of "Danger & Adventure in the Media Wasteland!"
The boys are running out of money -- but then they remember that Portland, Oregon is built on a unicorn burial ground. With the unpaid help of their regular guests, can the boys exploit this fact and make the rent?
Originally a slideshow presentation at "Faces of Meh," "Buried Unicorns" was written and drawn by regular "Cort and Fatboy" guest Mike Russell. Featuring a gorgeous faux-distressed color cover by Adrian Wallace.